The Diesel Page
---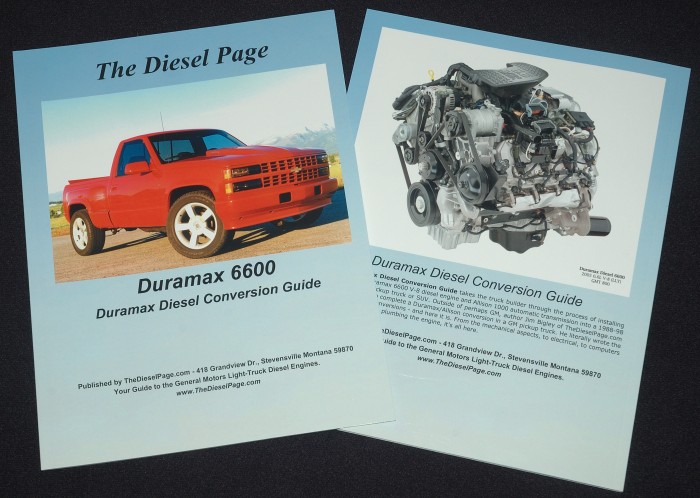 Duramax 6600
Duramax Diesel Conversion Guide
For the 1988-98 Chevy/GMC C/K* and more!
Newest Second Edition
---
The tremendously successful Duramax 6600 diesel engine can be easily tuned to produce more horsepower than you could possibly use on the street, while delivering 25 miles per gallon at 75 miles per hour in a truck like the Chevy K1500 shown here. Only a modern diesel engine can achieve results like this. In addition to appearing in at least 8 different magazine articles, the Duramax/Allison conversion produced for this TDP project has drawn praise and compliments from everyone who has seen it up close, and certainly from all those who have ridden in or driven the truck. TheDieselPage.com is here to help you produce a conversion of your own.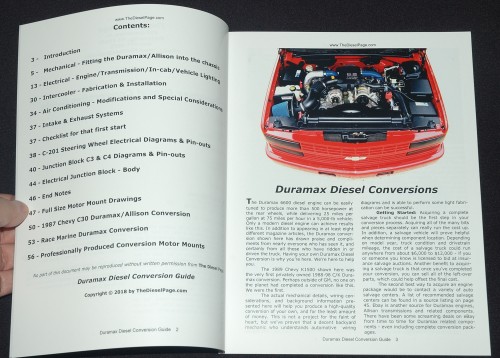 Duramax Diesel Conversion Guide - This newest second edition includes glossy full-color photo-quality front and back covers (actual front/back covers shown above), a completely reformatted and revised interior that includes 62 glossy pages (17 B/W + 45 full color pages) filled with updated photography and graphics - along with even more information designed to help you succeed.
This beautifully printed and perfectly bound full-size 8-½" x 11" Guide takes the truck builder through the process of installing GM's powerful Duramax 6600 V-8 diesel engine and Allison automatic transmission into a 1988-98 Chevy/GMC C/K pickup truck or SUV. Outside of perhaps GM, author

of TheDieselPage.com was the very first to complete a Duramax/Allison conversion in a GM pickup truck - first running and drivable in early April of 2004. He literally wrote the book on Duramax Conversions - and here it is. From the mechanical aspects, to electrical, to computers & control modules, to plumbing the engine, it's all here.
The Diesel Page has proven that a decent backyard mechanic who can perform some light fabrication and who understands basic automotive wiring diagrams can successfully complete a project like this, and for the least amount of money. With care and attention to detail, the information presented in this guide will help you produce a high-quality conversion of your own that looks as though the truck left the GM assembly plant with a Duramax under the hood (see above).
The Chevy K1500 appearing at the top of this page was the very first privately owned 1988-98 C/K Duramax diesel conversion. When this project began, we didn't know whether the engine and transmission would even fit into the engine compartment. The bigger question was whether it was possible to get all of the electronics configured to produce a running engine and drivable truck. It was a risk. Every aspect of this conversion was breaking new ground, but after solving all of the puzzles we were rewarded with a completed and running truck - one that is so much fun to drive - and remains so even today - in 2020.
The Duramax Diesel Conversion Guide offered here is the result of hundreds of hours of work - spanning a nearly two year period of time. We've done the hard part. You should be able to complete a similar conversion in just a few weeks, knowing upfront that you'll be successful - and that you can email or call to talk to the expert if you need help. No one has more experience with a Duramax Diesel Conversion.
This beautifully printed Guide contains 62 pages with more than 117 images & diagrams and easy to understand text that will guide you through the conversion process. Information covering the important electrical connectors, connector pinouts, and wiring considerations that are necessary to produce a running vehicle are included (see list of included systems below). The remaining electrical considerations (optional and not directly related to getting the vehicle running and drivable) may not be included. Though not necessary, we recommend that you acquire the wiring diagram books matching the model year of your vehicle and the engine package you're using. You may need the additional resource material to address systems like the ABS, airbags, security (other than Passlock II), audio, and other miscellaneous systems. While these auxiliary systems are not essential to produce a running engine and drivable vehicle, they do add functionality to the prior generation of GM trucks. And again, you can send Jim an email or call him if you need help.
The 1995 or newer C/K make better candidates for a Duramax conversion. This is because the 1995-98 dash can be easily modified to accept a Duramax diesel instrument panel gauge cluster that matches the model year of your engine package. Our original 1989 Chevy dash design made installing the new instrument panel cluster somewhat more difficult (but not impossible), and is why we chose to install a complete 2001 model year dash in this truck. While the dash conversion process is shown in the Guide, it was a significant undertaking, and is not necessarily recommended. What's interesting is that the dash usually draws more attention than does the "factory looking" Duramax engine installation when the truck is shown at car shows or diesel events. Just about everyone believes this Duramax was a factory installation - it's that good. If you have a 1988-94 model year C/K vehicle, you can still retain your original dash and install a new instrument panel gauge cluster if you have the skills necessary to bring the two together, or you could simply not install a diesel gauge cluster matching your engine package.
To help illustrate what's possible, the Duramax Diesel Conversion Guide now includes an illustrated discussion about a 1987 Chevy C30, an offshore race marine Duramax conversion and a 1998 Chevy 1500 LBZ conversion that demonstrate both the versatility of the mighty Duramax and this Conversion Guide. We want you to succeed. We're here to help.
Contents:
3 - Introduction
5 - Mechanical - Fitting the Duramax/Allison into the chassis
13 - Electrical - Engine/Transmission/In-cab/Vehicle Lighting
30 - Intercooler - Fabrication & Installation
34 - Air Conditioning - Modifications and Special Considerations
37 - Intake & Exhaust Systems
37 - Checklist for that first start
38 - C-201 Steering Wheel Electrical Diagrams & Pin-outs
40 - Junction Block C3 & C4 Diagrams & Electrical Connector Pin Labeling
44 - Electrical Junction Block - Body
46 - End Notes
47 - Full Size Motor Mount Drawings
50 - 1987 Chevy C30 Duramax/Allison Conversion
53 - Race Marine LLY Duramax Conversion
56 - 1998 Chevy 1500 LBZ Conversion
59 - Professionally Produced Conversion Motor Mounts (available separately)
60-61 - More Full-Color Truck Photos

(* note: the term "C/K" refers to either two wheel drive and four wheel drive vehicles... C=2WD, K=4WD Full-Size Pickup/SUV, i.e. K1500 = 4WD half ton)
---
To order the Duramax Diesel Conversion Guide, please use our secure online Order Form or call to place your order. $89.95 + $8.40 S&H USPS Priority mail (Canada & Foreign extra).
Part of any Duramax conversion kit will include motor mounts. See our professionally produced Conversion Motor Mounts. The original prototypes have delivered great service since 2004, and these second-gen versions are even better.
Thank you.
---
TheDieselPage.com
What's New: | Feature Articles: | Product Reviews: | Member's Area:
Join Us: | Duramax Diesel Page: | Advertisers: | Classified Ads: | Books:

Send e-mail to: turbo@TheDieselPage.com
Copyright © 2022 by The Diesel Page
www.TheDieselPage.com